{category.meta_title}
Instinct® Grain-Free Kibble Dry Dog Foods fulfill your dogs' instinctive nutritional needs with 100% grain-free and gluten-free nutrition, resulting in vibrant health you can see.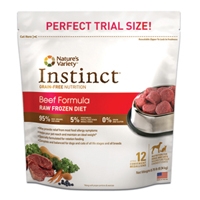 Manufacturer: Nature's Variety
Trial size is an easy way to try raw in our most popular proteins! Instinct Raw Frozen Diets are formulated like the ancestral diet with 95% meat, organs, and raw ground bone, and with wholesome fruits and vegetables. Dogs and cats are meat eaters by nature. A diet consisting primarily of raw meat, organ meats, bone, and fat reflects what your pet would eat in its natural habitat. Since dogs and cats are carnivores by nature, they thrive on a food rich in nutritious meat.
Nature's Variety Raw Frozen Diets are a convenient, complete, and natural way to feed your pet the way nature intended. Wholesome raw meat provides the greatest source for bio-available nutrients, including unaltered proteins, enzymes, and amino acids. Made in a USDA inspected processing plant, these natural diets are 95% meat and 5% fruits and vegetables. Raw Frozen Diets are easy to feed!